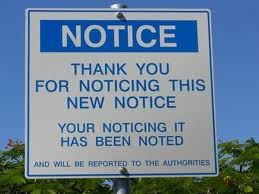 When it comes to design, the less you say, the more you get NOTICED! Color, font, company slogans and logos are critical to your your signage getting Noticed
1. Work closely with your designer and make sure that the color you like is easily viewed in the area your sign will be erected. For example, dark green will not be easily viewed on a stone building. There are a variety of outlines and color options that will make all the difference. It is also critical that you verify the sign code in your area. Many communities only allow certain colors to be used!
2. Font and spacing of each letter make ALL the difference in readability! You may have noticed a wonderfully colored or neon lit sign that is not readable. Make sure your design allows enough space between each letter and that the chosen font is easily viewed from a distance!
3. Keep your company's slogans and motto's short and sweet. Too much information confuses customers and distracts them from continuing to read.
4. A crisp clean logo design plays a large role in getting your sign NOTICED! Work closely with your graphic designer and make sure you offer feedback to their work. Also listen carefully to their suggestions! They are trained to take ideas and extend them into ideas that you might like better. Keep yourself open to the process and give yourself permission to make changes to your original ideas!
The old acronym K.I.S.S. comes to mind today..... KEEP IT SIMPLE STUPID. Keep your colors, fonts, slogans and logo designs ~KISS~ and your company will get NOTICED!